Visit Dog the Bounty Hunter's Office,
in Honolulu, Hawaii.
I track down the Dog...
I know where the Dog works. His office is in Honolulu.
That's Dog as in Duane Chapman AKA Dog the Bounty Hunter. I was hoping to get a peek of him and his lovely wife Beth.
I just wanted to say: Hey Dog! Howz it?
I had seen his son, Leland in the airport at Hilo, on the Big Island. I didn't really want to bother him as he seemed quite busy. But that's another story...
So, I decided to go to Dog's office...

Alright, the Dog was not home, but you can see where he conducts all of his business in Hawaii.
You never know when you will see the Dog. Hawaii is a small place.
If you do need the Dog, you now know where to look. He is just a couple of blocks from downtown Honolulu.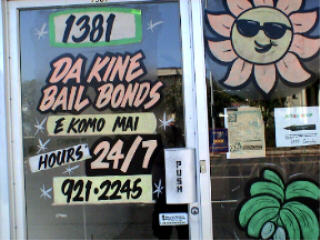 The Dog's Office in Honolulu.
The office is right next door to a church and across the street from a school.
I have been by his office many times, mostly on Saturday mornings.
I guess the Dog takes Saturdays off because he wasn't there on Saturdays.
The Dog has his own gift shop right around the corner from the office. Each time I visited, the shop was also closed. I wouldn't mind getting one of those Dog T-shirts.
I did speak to the owner of a small convenience store located next door to Dog's office. He said he knows the Dog. The Dog comes in all of the time, he said.
He said the Dog was a nice guy.
You know, I would expect nothing less.
I'm sure the dog is a very nice guy.
Purchase Dog memorabilia here: